The world's hottest female football players
Leslie Osborne
The 27-year-old Leslie Osborne plays as a defensive midfielder for the Women's Professional Soccer's Boston Breakers and she is also a member of the US women's national soccer team. We absolutely love a girl who has excellent ball skills.
The world's hottest female football players
Anouk Hoogendijk
The beach blonde hair and pretty face aside; Anouk Hoogendijk is one helluva football player. The lanky Anouk made her debut for the Dutch national team at the age of 19, and the now 26-year-old midfielder plays for Dutch team FC Utrecht.



Tina DiMartino



Tina DiMartino is special: during her college days at UCLA, she was the only freshman to start in all twenty-six matches for the Bruins, scoring five goals in the process. She was often praised for her creativity on the field, and she was known as one of the nation's top attacking midfielders in women's college soccer. The 25-year-old is now a member of the US women's national soccer team - and one of the prettier ones too!





Jessica Landstrom



You can call Jessica Landstrom the Henrik Larsson of the Swedish women's football team: the 1.8 meter forward scored her first goal for the Swedish national team on her debut when she was only 23. Pretty and talented, she's the best thing to come out of Sweden since Ikea.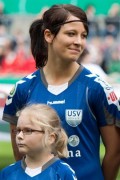 Sylvia Arnold



Only 21, the cutesy Sylvia Arnold has achieved so much in her short footballing career. She was part of Germany's Under-20 team and she made such a great impression at the 2010 Under-20 World Cup, she was promoted to the senior national team. You know what's the awesome part? She has a twin sister who is just as pretty and talented.





Amy Rodriguez



Way back before Amy Rodriguez dominated the Women's Professional Soccer league and international scene - she made her debut for the US national team when she was only 18, how awesome is that? - Amy was a two-time All-American and the Gatorade Player of the Year in 2005 during her college days, where she also finished her college career ranked fourth all-time in goals scored.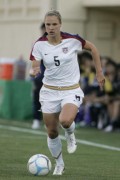 Lindsay Tarpley



Let's put it this way: Lindsay Tarpley was already a legend even before she turned pro. Playing for the University of North Carolina in college, she was named ACC Rookie of the Year and the Freshman of the Year. During her sophomore season, she led the nation in total points while leading her team to the 2003 NCAA Women's Soccer Championship, picking up the ACC Player of the Year, National Player of the Year, and received several All-America team honours along the way. She finished her North Carolina career with 59 goals and 59 assists, and her jersey was retired by the school. And she looked pretty darn hot doing all that too, no doubt.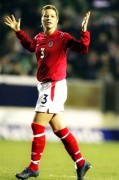 Rachel Unitt



Rachel Unitt is arguably Britain's most famous women's football player, and it's not hard to see why. Not only is she one of England's prettiest athletes, she's a talented one too: the 28-year-old left back was named the Nationwide International Player of the Year at the 2004 FA Women's Football Awards, where she won the same award again in 2006. We would so like to play footsie with her.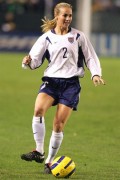 Heather Mitts



Move aside Mia Hamm, all eyes are now on Heather Mitts: two-time Olympic gold medalist and world-renowned defender. Although she is an awesome football player, the 32-year-old Heather is better known for her looks (not that we mind though). She was voted as the sexiest player in the Women's United Soccer Association league on Playboy Online in 2001 and was voted ESPN.com's "Hottest Female Athlete" in 2004. She also appeared in the 2005 Sports Illustrated Swimsuit Issue, making her one of the world's most desirable female athletes.





Milene Domingues



If you are wondering why Milene Domingues looks so familiar, that is because she used to be the ex-wife of Brazilian legend Ronaldo. But that's not why she is famous though, she is a great footballer in her own rights; Milene holds the record for ball-juggling, keeping a football off the ground with 55,198 touches. During her playing days, she was the most expensive woman's player in Spain. Remember at one point Ronaldo revealed that he has to have sex before every game? We would be doing that too if our partner was Milene Domingues.





Hope Solo



With her beach-blonde hair, piercing blue eyes and stunning good looks, Hope Solo might be mistaken for a model, but she is actually the starting goalkeeper for the US women's national team. Currently playing for Women's Professional Soccer team Atlanta Beat, she was named the WPS Goalkeeper of the Year in 2009 and she is the University of Washington's all-time leader in clean-sheets and saves back when she was in college. Hope is our kind of girl. Plus, she is very good with her hands.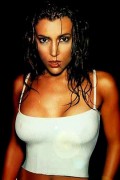 Laisa Andrioli



Ladies and gentlemen, let us introduce you to Laisa Andrioli - regarded as the hottest female football player ever! The 22-year-old used to play for Brazillian side Palmeiras and she is currently a member of the Brazillian national team. Really, we would like to talk about her skills as a footballer, but Laisa is better known for her off-field exploits. She used to date football legend Denilson, and in 2009, she stripped and posed nude for a local magazine. No wonder Brazilians like their football.

more image:



All Pictures are from
AP File Photo